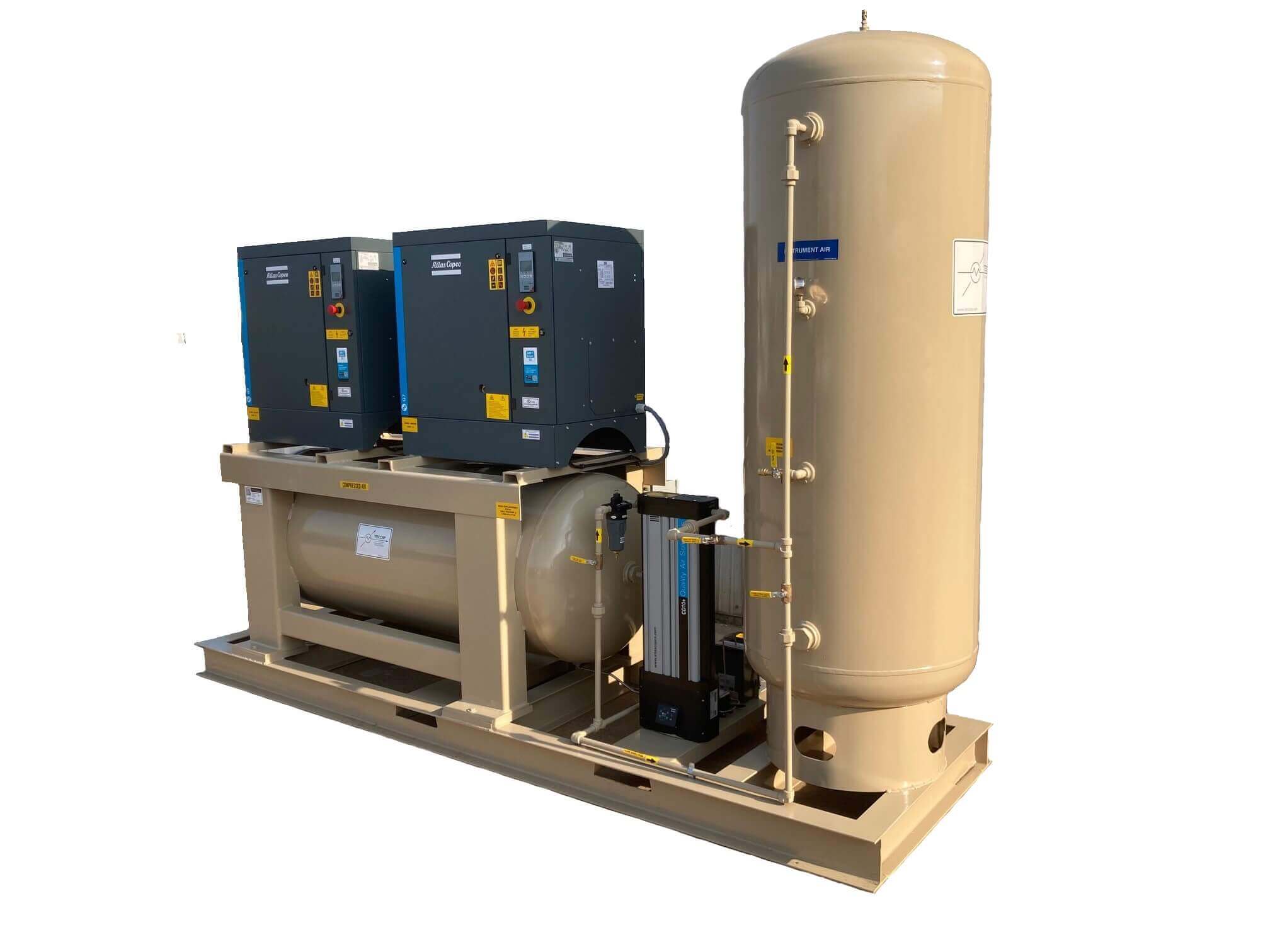 Instrument Air Compressors
The TESCORP "Instrument Air Series" offers a full-line solution for your field Instrument Air needs. All TESCORP units are offered in simplex or duplex arrangements for continuous and redundant operations. Instrument Air Units are constructed as either open skid mounted or totally enclosed for harsh weather applications.
Instrument Air Unit Features and Options:
Unit air pressure up to 200 psi and continuous volumes from 8CFM to 608CFM
Continuous duty industrial reciprocating, rotary vane or rotary screw compressors.
Fully automated control system with optional interface with customer's plant DCS
Heatless desiccant dryer rated at -40F dew point with isolation and bypass valves.
ASME VIII coded Wet and Dry receivers.
Rugged oilfield skid with environmental containment.
120/240 Single phase and 240/480 Three phase available
Quincy Instrument Air Units:
Small horsepower instrument air package designed for small volumes. The compact unit is mounted on a wet receiver with a control panel mounted for easy access
Flow rates of 8 to 125 CFM.
Horsepower's from 3 to 30 BHP.
Mattei Instrument Air Units:
Medium horsepower rotary vane compressor package designed for high efficiencies and operational service. The unit is constructed with a fully protected factory NEMA 4 harsh weather enclosure.
Flow rates of 15 to 350 CFM.
Horsepower's from 5 to 60 BHP.
Atlas Copco Instrument Air Units:
Medium to large horsepower rotary screw compressor package designed for constant operational service. The unit is constructed with a fully protected factory enclosure for full weather protection.
Flow rates of 54 to 608 CFM.
Horsepower's from 15 to 350 BHP.
Duplex Instrument Air Units:
All units can be shipped as a duplex unit with a backup compressor available for 50% to 100% volume standby. Wet and Dry receives and Dryers can be duplexed as well.
Enclosed Instrument Air Units:
TESCORP units are available with full-weather enclosures, fully transportable and personnel accessible structures. Designed for harsh and cold environments, the unit is climate controlled and insulated with expandable foam insulation encompassed in a full metal structure. Simple field installation includes one run of 480 VAC power and connection to your instrument air piping for turn-key operations.
Instrument Air Units
Examples of our Instrument Air Units