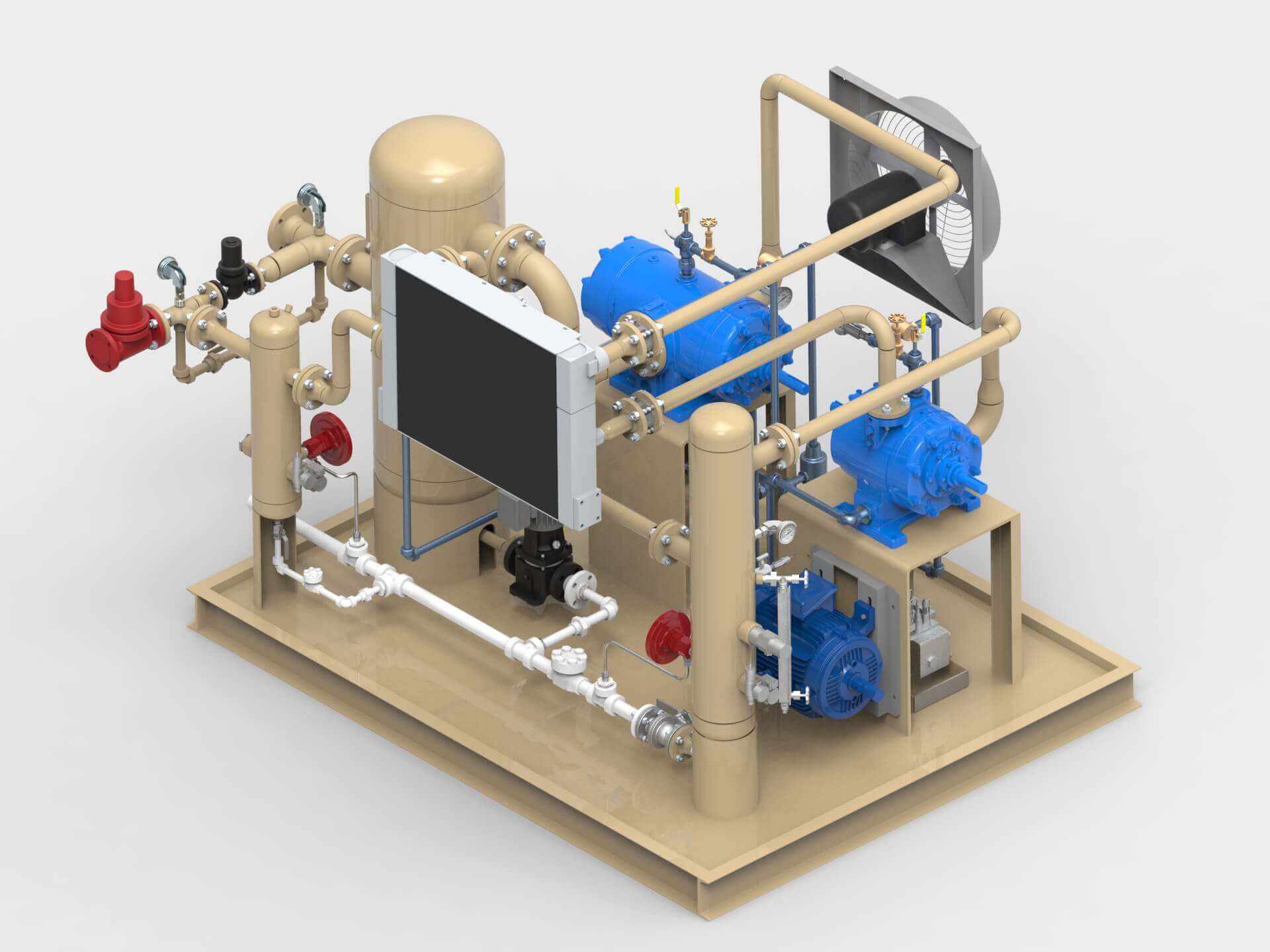 Two-stage Vapor Recovery System
60 & 75 Horsepower Systems
Capabilities from 84 to 325 MSCFD
Pressure capabilities up to 150 PSIA
Two-stage Wet Gas Recovery System
CVR-M 2 (Modular)
TESCORP's "CVR-MODULAR 2" VRU Series is a VRU system for applications that meet EPA CFR 40, Subpart 0000 regulations and your stock tank vapor recovery gas emission requirements. Designed and constructed for "wet" gas applications utilizing a rugged single-stage rotary vane compressor, TESCORP's "CVR-MODULARS" are compact, self-contained, fully-automated VRU systems, complete with gas cooling, "load/no-load" capacity control, with sophisticated PLC control logic with customer "DCS" communication.
The unit offers the following design and optional features:
Liquid cooled, oil-lubricated, single-stage rotary vane compressor utilizing mechanical seals and heads designed for saturated gas applications.
Complete force feed lubrication system including a 15 gal. oil storage reservoir, progressive flow type divider block, manifold & filter. Controls include flow indicators & monitors.
NEC Class I, Div. II, Premium efficiency TEFC 460 VAC/3 Ph. /60Hz electric drive motor. VFD ready.
ASME Code, Section VIII Suction scrubber. 316 SS mist eliminator, condensate level controls with pump for rated flows & pressures.
Gas after-cooler with 30 degree approach to ambient and a closed-loop compressor jacket water cooling heat exchanger assembly.
Unit control panel per NEC Class I, Division II, Class B,C, & D w/ TESCORP's vapor recovery logic, controls and DCS comm.
CVR-M's skid and enclosure are designed for harsh oil field conditions.
Wiring per NEC Class I, Div. II, Class B, C, & D on all electrical components for safe operation. Compressor options include Double-Bellows mechanical seals.
Motor Starters and / or VFD drives are available for all accessary motors.
The CVR-Modular 2 Series Vapor Recovery Unit utilizes a two-stage rotary vane compressor with minimal once through oil lubrication. This eliminates the damages associated with liquid contamination of the lubrication and maintains temperatures in excess of the gas "dew-point".